Nana is the latest neighbourhood to get a fresh dose of cannabis as Siam Green Cannabis Co. continues to expand across Bangkok, following the successful launch of their first branch in Phrom Phong last May.
Officially opened on August 24, Siam Green Cannabis Co.'s new Nana branch is located on the main road of Sukhumvit between Soi 10 and 12. It's more than just a cannabis dispensary, though — it's a unique experience waiting to be explored.
All clean and green design for a wholesome experience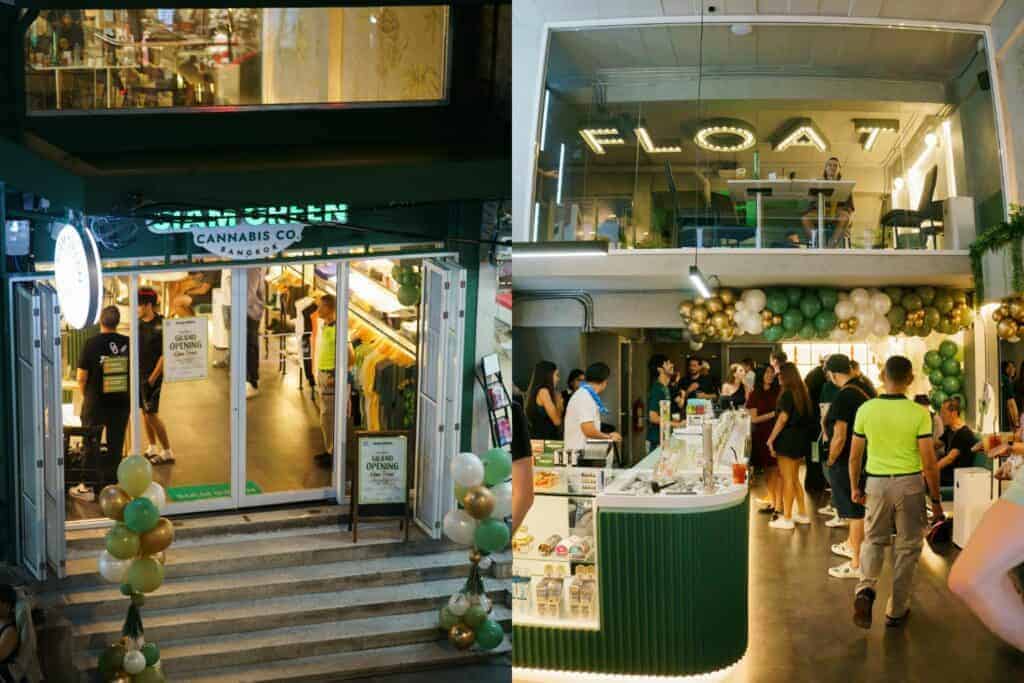 Siam Green Cannabis Co. offers a consistent vibe across all of our branches, be it in Bangkok or Koh Samui, and Nana is no exception. We're all about keeping things light and clean, while also embracing earthy tones. If there's one word to describe the new branch, it would be "green" (but not overwhelmingly so). A large signboard declaring "Siam Green Cannabis Co." in green letters, as well as a deep green facade, greet you at the outset. Inside, you'll find a green counter, lush plants cascading from the walls, and warm, inviting lighting. 
And if that wasn't enough to make you feel at home, our expert budtenders will welcome you with a friendly smile, ready to assist you.
The Nana branch offers exclusive products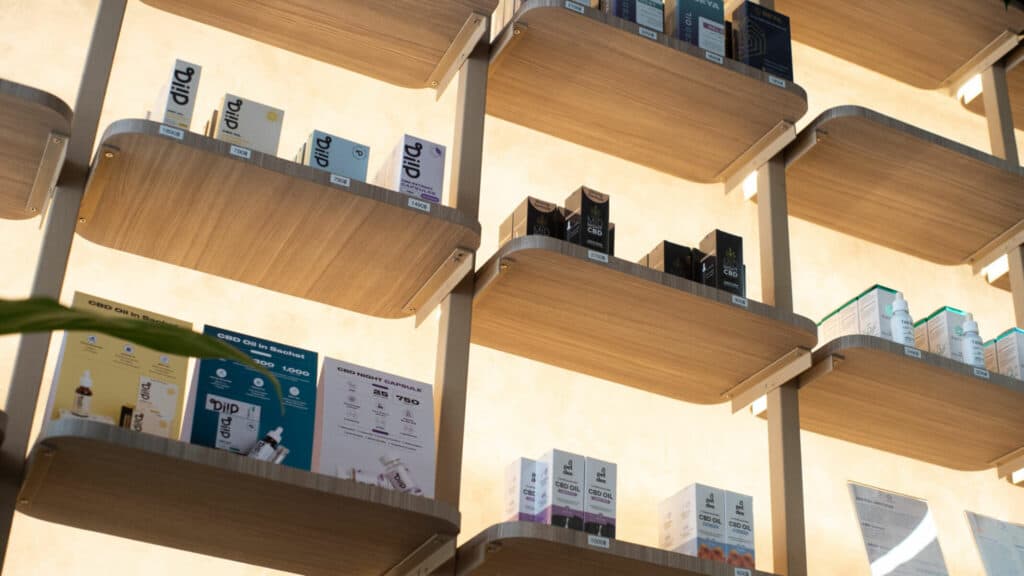 In terms of product offerings, the new Nana branch retains the hallmark of high-quality products that customers have grown accustomed to. Our wide array of products ranges from flowers and CBD oils to tools and merchandise. We also boast an extensive variety of strains, each one locally sourced from all across Thailand.
However, it's worth noting that while you can expect a consistent overall experience and, naturally, the core product range at all Siam Green branches, each location offers slightly different products. This means that the Nana branch has products that aren't available in the Phrom Phong branch, and vice versa. It keeps things exciting for regulars while ensuring that no two visits are ever quite the same.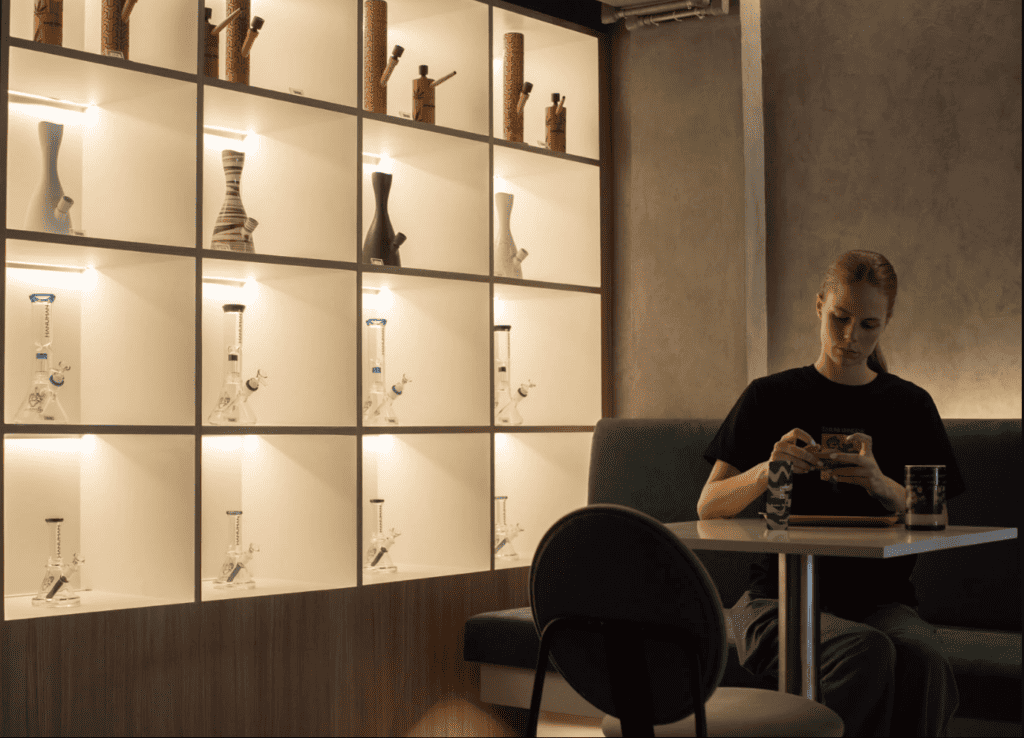 In addition to the diverse product offerings, the Nana branch also has a beautiful, spacious lounge. Therefore, you don't need to go anywhere else to enjoy your purchases. Equipped with comfy furniture, semi-dim lighting, and great music, it's the perfect space to relax with friends or connect with fellow cannabis enthusiasts. Plus, we also offer a selection of beverages to ensure your time there is truly exceptional.
Buy 1 get 1 deal to start your journey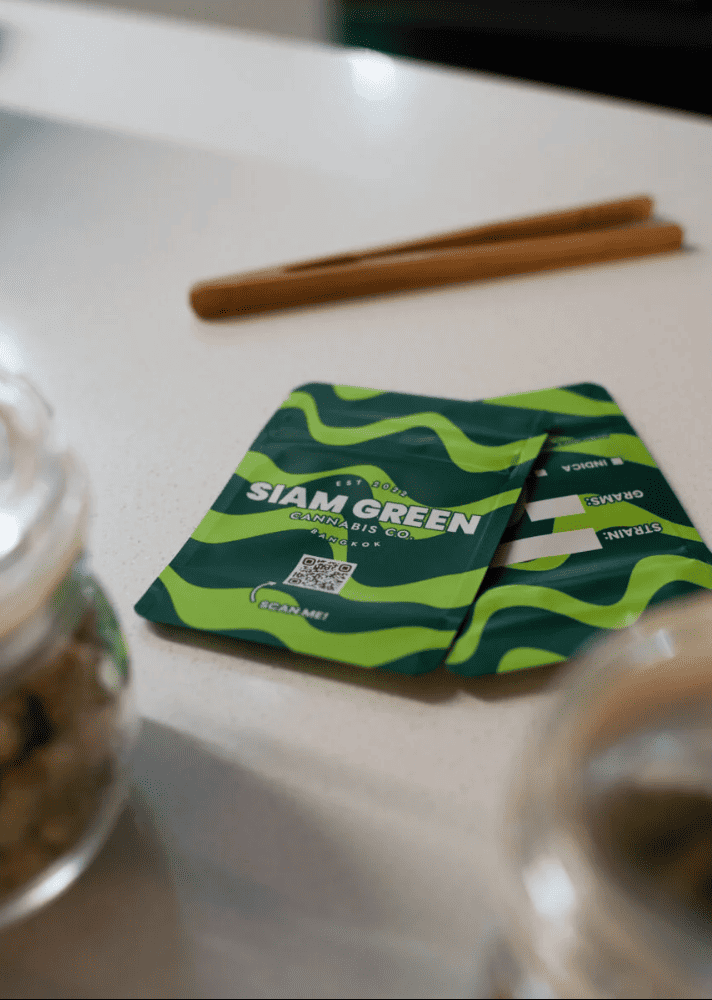 To add the perfect finishing touch to the branch, Siam Green Cannabis Co. Bangkok always offers a buy-one-get-one-free deal on at least 1 to 2 strains. The best thing is – these aren't just any strains that they're trying to clear from their shelves. No, they're high-quality strains that are randomly handpicked every month. This is, obviously, a fantastic opportunity whether you're a newbie wanting to explore different strains or an enthusiast looking to save some extra cash. After all, who can resist a great deal?
Located close to malls, hotels, and public transportation, Siam Green Cannabis Co.'s newest branch boasts a fantastic location. So there's no reason for you to skip it!
So, if you find yourself in Nana or just want to take a detour for an exciting adventure, head on over to Siam Green Cannabis Co.'s latest branch in Bangkok. Boasting a prime location on the main road of Sukhumvit between Soi 10 and 12 (Click here for Google Maps), with proximity to shopping hubs, hotels, and public transit, it's your go-to cannabis haven. What's more, this branch caters to both early birds and night owls since it stays open from 11:00 AM until 3:00 AM, making it the ideal choice for daytime delights or post-party relaxation. 
Be sure to stay in the loop with the freshest updates on promotions, new arrivals, and everything in between by giving us a follow on Facebook and Instagram.